Bishop Design has revealed the design concept for ECOS, a new lifestyle hotel development in Al Furjan, Dubai.
Intended to be the first of its kind, a forward-thinking social hub within the area, ECOS needed to share the same functional qualities as any other midscale hotel whilst also facilitating the tech and physical connectivity, with a distinct brand experience and offering which targeted the millennial demographic. The project comprises 314 guestrooms, an all-day dining spot, rooftop pool, gym, laundry room, business hubs and a dedicated coffee bar.
The desired design direction was to provide novel, unique and authentic experiences through the elements used. It was to be ultimately cost-effective, considering ambience, smart technology and materials, which were visually dynamic with a strong use of graphic and visual connectivity throughout, offering instant gratification. It would be the creation of an entity that exudes playfulness, tech-savvy whilst elements keeping in line with the affordable luxury and functionality requirements yet synonymous with its demographic. Space allocation was paramount to best utilise all areas within the site still adhering to DTCM standards and guidelines, however, playful, chic and diverse in its application, design styling and specified finishes.
One of the main characteristics of ECOS is its visual side. All graphics were specifically curated in collaboration with local artists. The art bridges regional inspiration and roots with current and relevant visual trends, dressing the traditional local motives in a modern aesthetic, creating visual connectivity's throughout all the spaces. As is customary in regional hotels, a Heritage Corner was dedicated to the rulers of the United Arab Emirates. Though their portraits too were given an innovative form, presented in a reformed manor in recognition of the new generation and fast developing Dubai. Being an alcohol-free establishment, a bespoke coffee lab was incorporated offering the highest level of connoisseur experience to all guests. To achieve the full sensory immersion, expertly skilled baristas need to be involved to curate the true bean to bag excellence.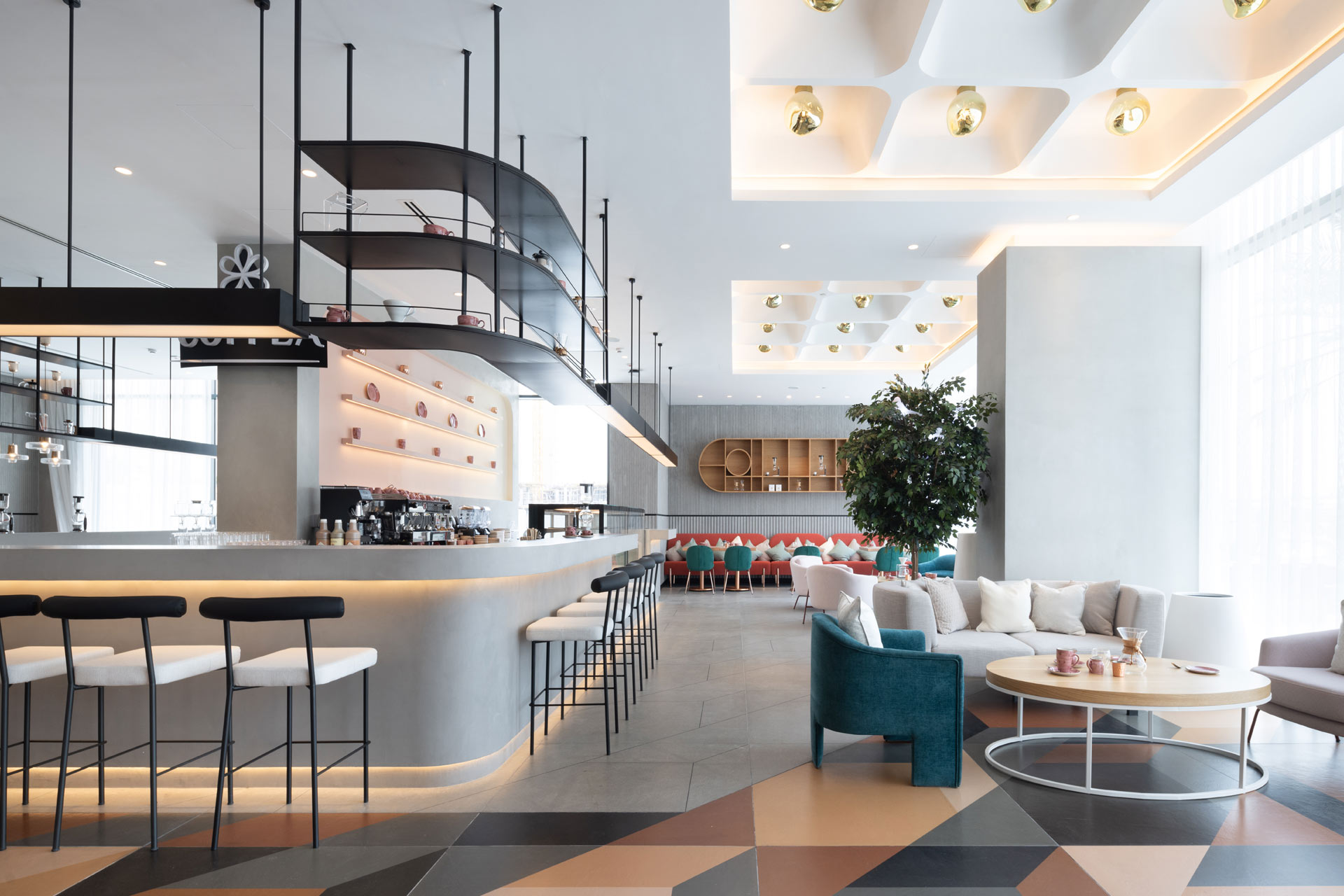 As one penetrates through the space a broad use of diversifying materials and cultural installations enhance the experience. A multitude of patterns, shapes, shapes and textures integrated into the design are accentuated through the use of current materials. The juxtaposition between both vibrant and restrained color palette neutralises unruly patterned counterparts. The beauty of the venue is expressed in the selection of the fixtures and accent pieces which flaunt a contemporary hint. As well-being evolves from a nice-to-have, on-trend hotel commodity to a must-have priority for a growing number of environmentally and socially conscious travellers, it was imperative ECOS was well-equipped to cater to all demands. A sense of localisation transpires thanks to a clever use of artwork, decor, colours, materials and scents, surrendering guests' into a visually intriguing and immersive experience.
In the restaurant alternating opulent green fabrics diverge against pastel hues, formulating seating arrangements and seamlessly complimenting their neutral equivalents. Raw materials are introduced through medleys of timber woods harnessing together Banquettes, with corrugated gray-stone cladding encapsulating zone defining pillars. Every element from the three tone porcelain chevron flooring below, replicated in a muted three dimensional form on the ceiling above, become equally complimented by brushed gold accents used in a magnitude of ways to elevate the luxury intent. Contrasting inlay is used to transition between spatial zones with the pattern widening the deeper guests move into the restaurant, a classic Paul Bishop trademark, it eventually breaks away opening up the area.
The driving sentiments and design ideology around creating this new evolution of lifestyle hotels required unification of Dubai's undeniably, desirable ethos coupled with the forward thinking drive of the brand label. This has been achieved through innovative installations, exhibited throughout the hotel. Demonstrating flexibility of spaces by providing comfortable seating, accessible workstations, and plenty of power points. It was imperative the design was not only aesthetically pleasing but that it addressed all senses to create a unique and authentic experience for guests whilst also adhering to the demand to stay connected to the world at any time of day. When considering every element of this venue it was imperative for us to create a foundation that would bestow the venue demeanour in a way that could be franchised yet withhold its own distinctiveness and remain true to the brand identity.
The desired result was to create a Lifestyle Hotel that was revolutionized by smart technology, an establishment which effectively engaged guests and continuously makes them feel comfortable and interactive in their surroundings. Although the journey was fragmented and needed cohesion, we successfully aligned the client's budget with their practicality concerns and set a new standard for lifestyle establishment. Deemed a 3* Star Hotel, however, there was no room to compromise on the design making it imperative the interior offering portrayed the same sensory experience to the guests which they would find in a Lifestyle Hotel. This could only be achieved through keen selection of the materials and finishes, which worked within budget, yet reflected the design intent in the best way possible. The project shows innovative solutions maximizing not only the use of space, moreover, an intelligent design approach and thought-provoking solutions.
Primarily what has been achieved here is an internationally adaptable homegrown brand. Understated, fun, smart and above all an offering that provides guests with affordable luxury.
The post Bishop Design completes ECOS Hotel in Dubai appeared first on Sleeper.