Global design house Yabu Pushelberg launched nine new product collections at Salone del Mobile, with world-renowned brands Molteni&C|Dada, Tribù, Lasvit, Salvatori, Glas Italia, Henge, and Linteloo.
Yabu Pushelberg x Dada: Tivalì
Entrusted with designing a new iteration to Molteni&C|Dada's existing collection, Tivalì, Yabu Pushelberg honed in on how they could modernise the design language of the kitchen while honoring tradition. Constructing a discreet, gentle, crescent arch to the bottom panels created a deep, sweeping panoramic effect that elongates the kitchen's field of view and embellishes the act of entering the kitchen. Expressive stone countertops and backsplash immerse the system, with wooden shelves hanging overhead punctuated by metal vertical rectangular shelf brackets in an assortment of sizes. Together, the elements of Tivalì permeate placemaking, to create an environment where traditions can be shared, memories made, and senses can be ignited.
Yabu Pushelberg x Tribù: Amanu Collection, Moonbeam and Moonshadow
Amanu, Yabu Pushelberg's third furniture collection for Tribu, is a timeless expression of everyday leisure for the indoors and outdoors. Exploring the organic beauty of teak, the studio crafted a dining table, chairs, and chaise lounge defined by function and grace. Celebrating the art of distillation, Yabu Pushelberg generously worked with time to articulate and refine Amanu to its most essential form. Standing as a collective or independently, Amanu exudes a calm, comfortable, and present demeanour that effortlessly mirrors the atmosphere of its environment.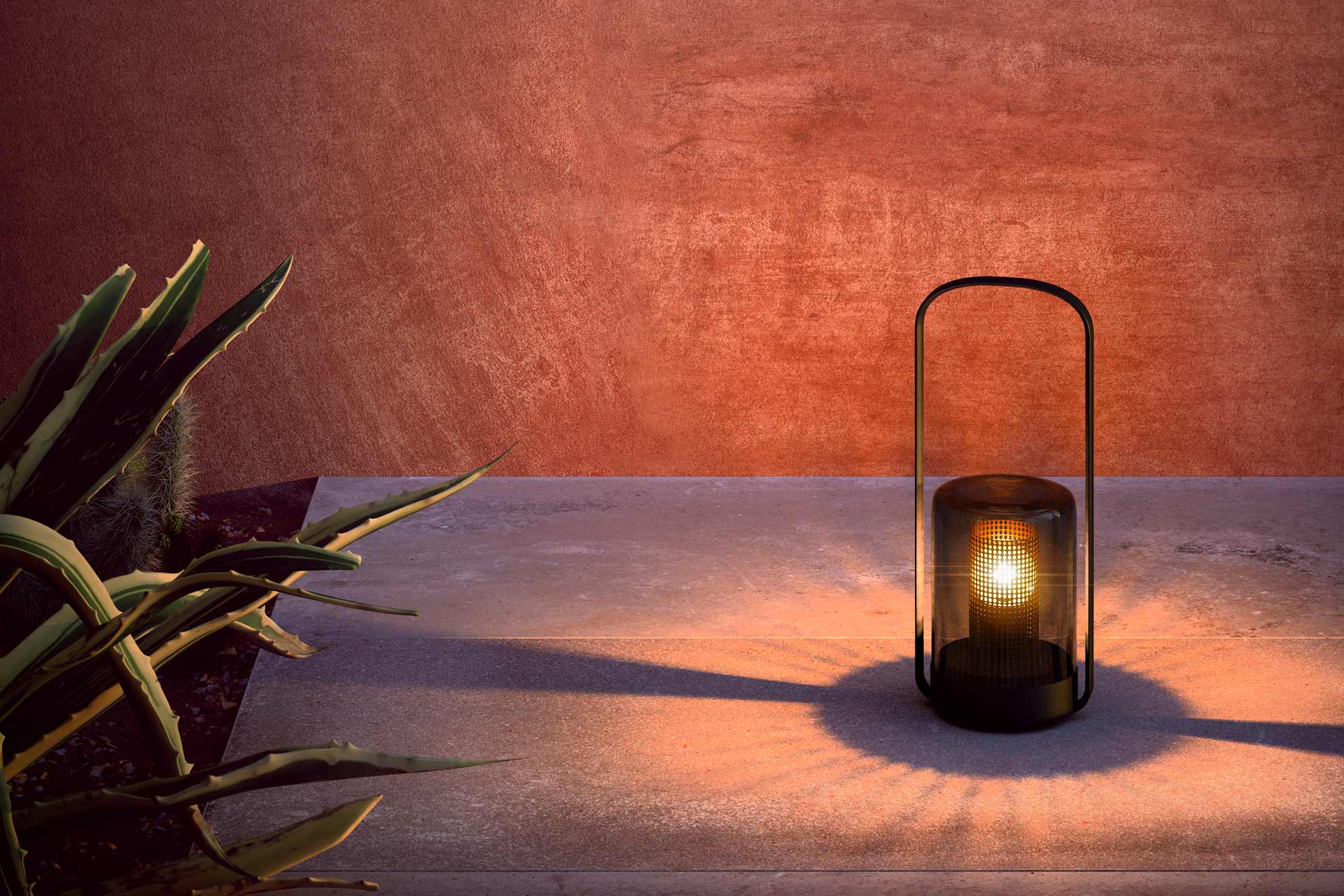 Moonbeam and Moonshadow are portable lanterns designed to unite people and nature. After hosting a group of friends at their home in Amagansett, George Yabu and Glenn Pushelberg were inspired to design their inaugural lighting collection for Tribu. Taken by the moonlight's reflection on the ocean, George Yabu and Glenn Pushelberg set out to craft Moon, a collection of cordless lanterns that can guide them and guests closer to nature.
Lasvit x Yabu Pushelberg: Cirrus and Glissade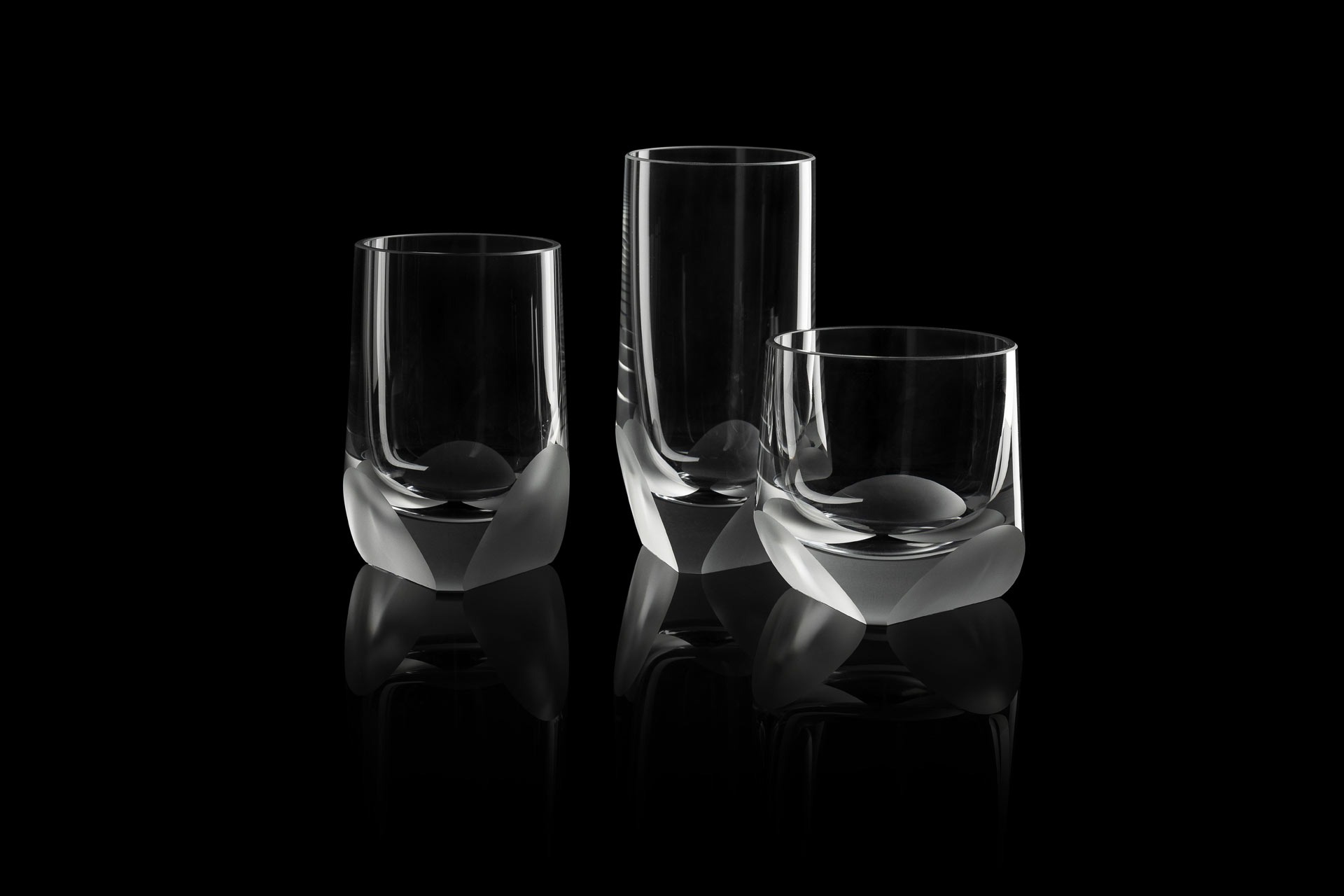 In Glissade, Yabu Pushelberg's newest crystal glassware collection expertise for Lasvit, technical reveals organic dimensionality. The inherent physicality of the name evokes the dynamism of the collection: featuring three sheer, sandblasted cuts, the glassware refracts light differently from every angle of viewing. Similarly, the unique geography of sharp mountain peaks and soft, snowy slopes inspired Glissade's intuitively organic forms.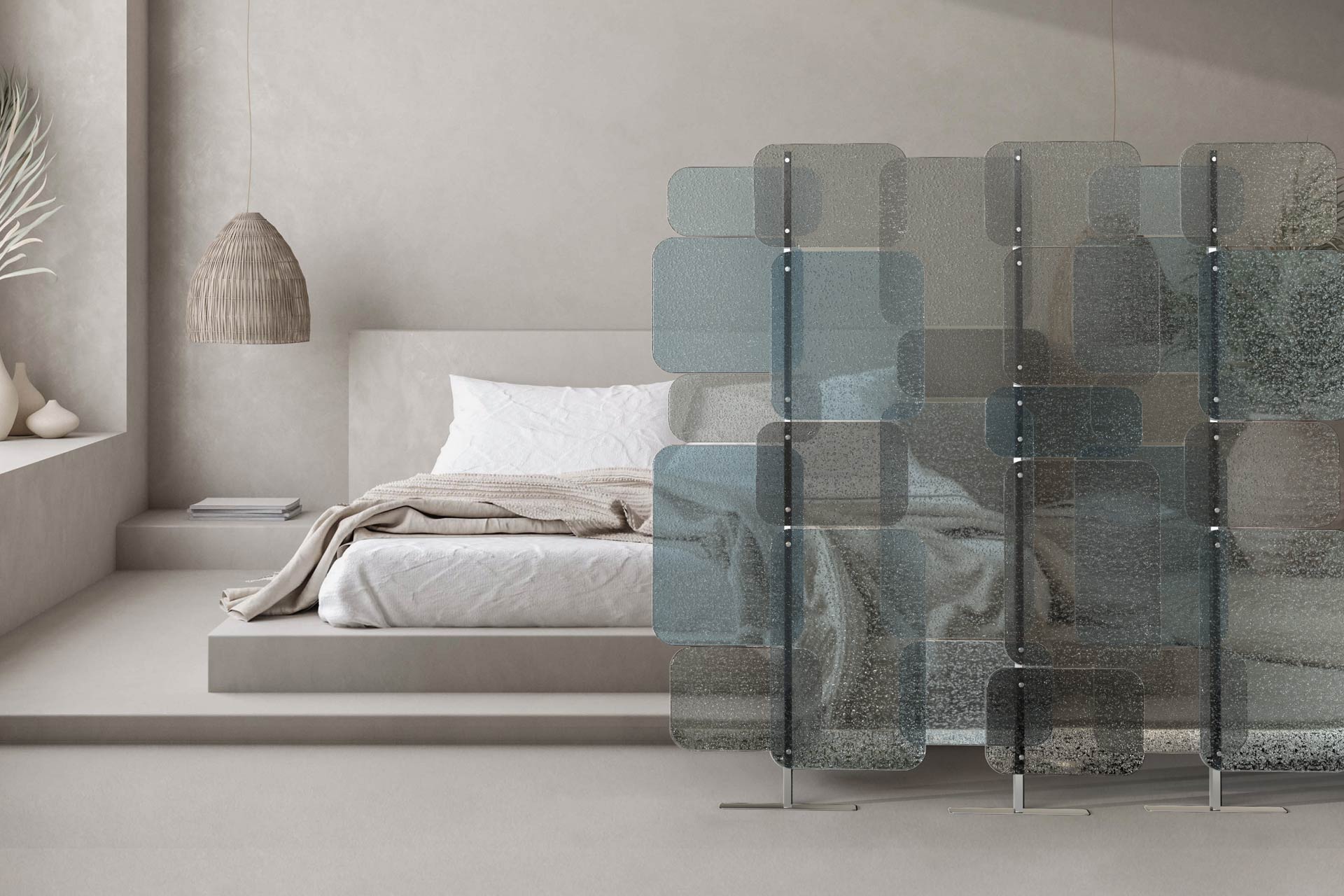 Cirrus, a customisable glass partition collection, represents Yabu Pushelberg's third collection created in collaboration with Lasvit. The screen system is brought to life by panes of clouded glass affixed to a free-standing vertical rail, giving the impression of layered organic shapes and hues floating in space. With its soft, imperfect radiuses and array of moody hues, Cirrus stands as a thoughtful interpretation of its namesake genus of atmospheric cloud.
Salvatore x Yabu Pushelberg: Punto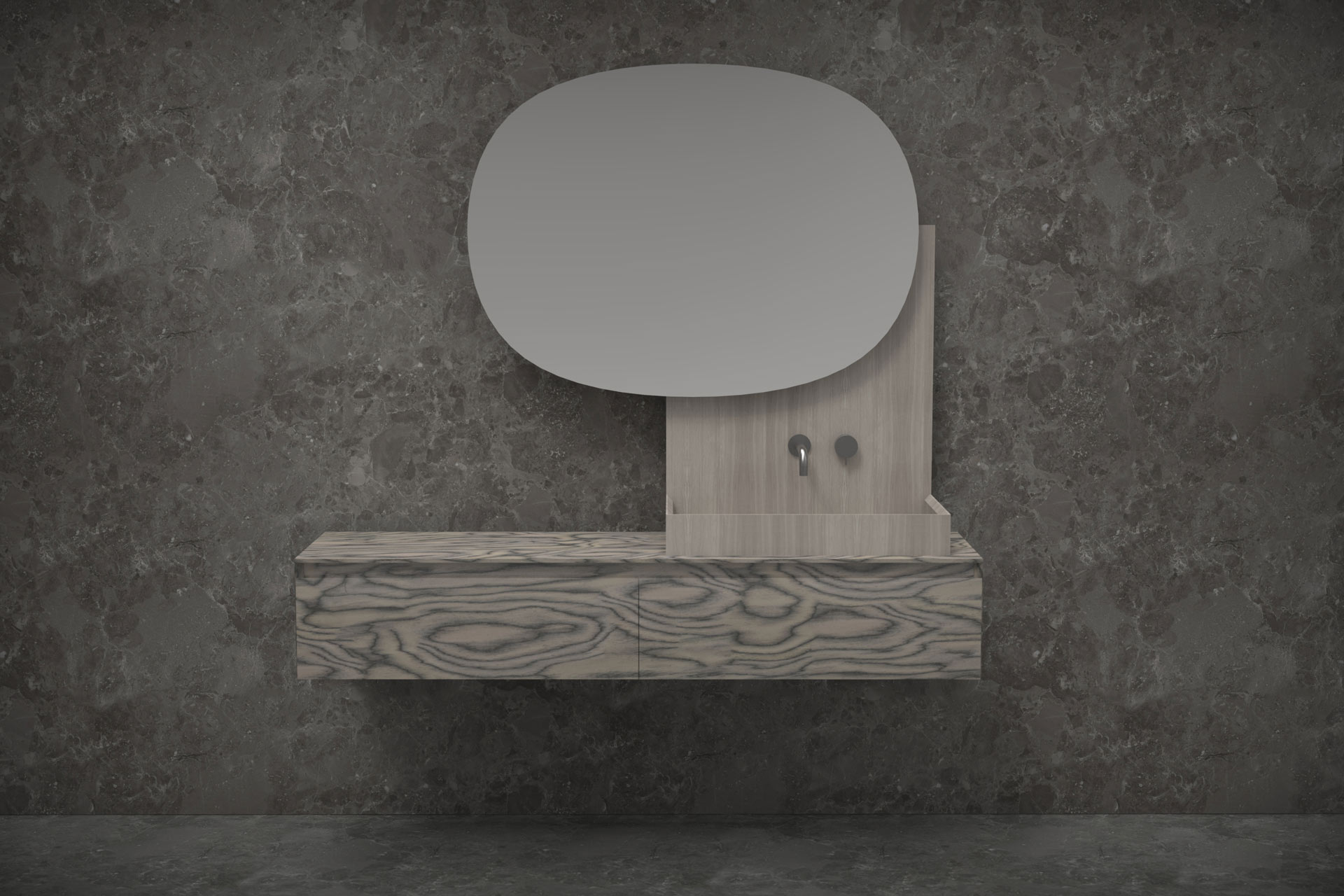 Punto, Yabu Pushelberg's inaugural contract bathroom collection for Salvatori is a physical expression of the point at which the rational and intuitive intersect. Comprising a mirror, backsplash, basin, and cabinet, Punto was designed as an interchangeable bathroom system that can independently or collectively fit into any environment. The surprising, yet undeniable cohesion of the Punto collection appeals to both creative and analytical sensibilities simultaneously. Yabu Pushelberg devised this unique unity of tension and balance to create a distinctive frisson—a moment of thrill and delight that translates the intellectual into the tangible.
Glas Italia x Yabu Pushelberg: Scribble
Scribble, Yabu Pushelberg's third collection for Glas Italia, combines gestural movement with graphic aesthetics. Yabu Pushelberg indulged in its curiosity of glass and designed its first-ever mirror collection for the Italian artisans. The Scribble collection is a re-interpretation of a classic gilded mirror inspired by the rediscovery and reconceptualization of the past. For inspiration, the studio envisioned sitting through forgotten treasures and coming across a mirror in need of polishing to reveal its full potential. The swirling, zig-zag gesture of washing away remnants on the glass left traces on the surface of the mirror. This motion became the embodiment of Scribble, creating a graphic yet composed illustration.
Henge x Yabu Pushelberg: Maple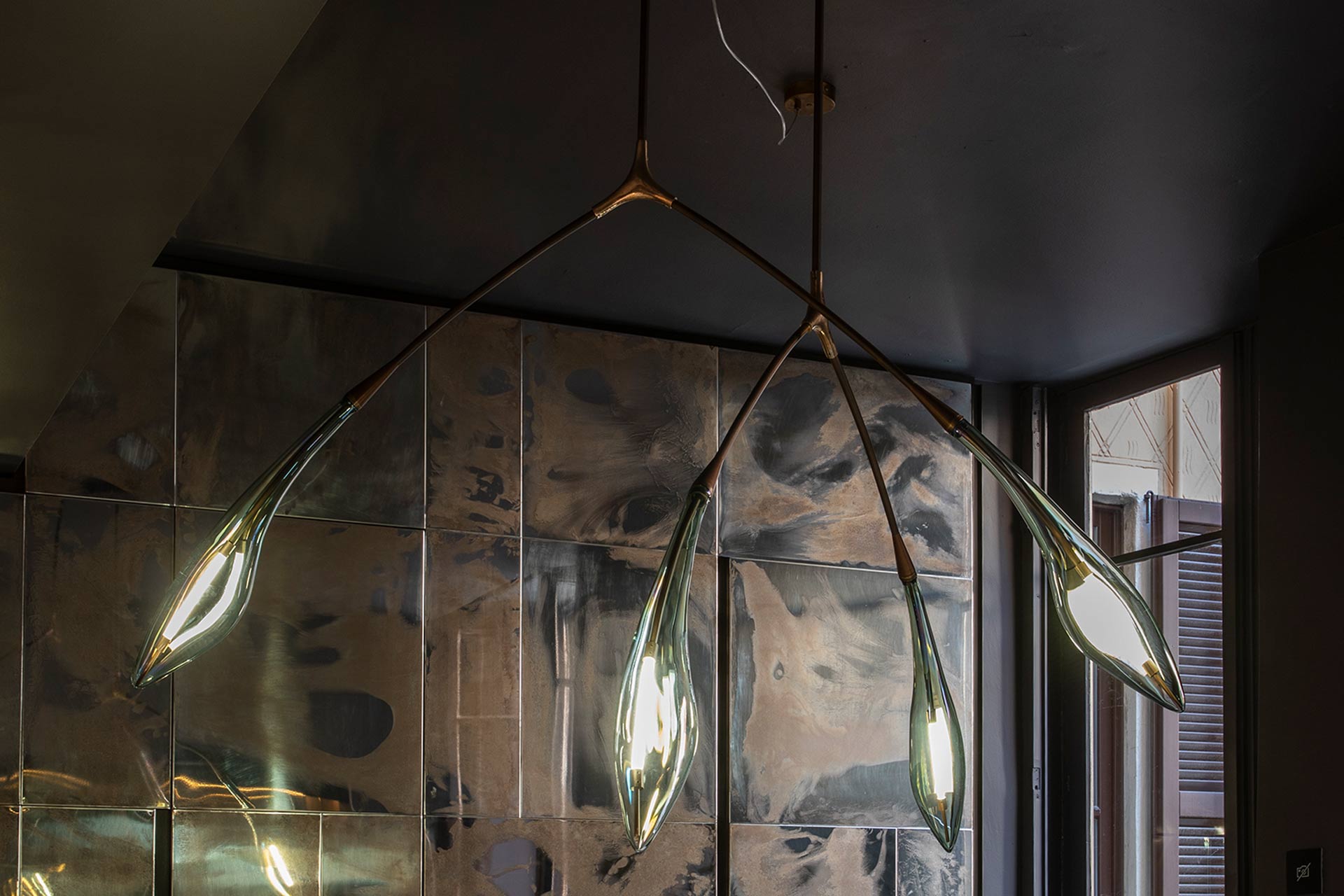 Yabu Pushelberg draws nature indoors with Maple, the studio's first lighting design created in its long-standing partnership with Henge. Maple's slender brass stems are tipped with hand-blown glass pendants, evoking the shape of cascading maple seeds in autumn. Suspended in play, the pendants suggest the dynamic potential of the whirling seeds at the apex of their fall. Yabu Pushelberg emphasizes the romance of autumn with lustrous materiality, and re-envisions the translucent wing of the maple seed in the pendant's softly angled bulbs. The studio imbued Maple with romantic appeal to make for a beautiful statement light above dining tables, where its soft illumination will create an inviting space for gathering whether in residences or restaurants. Yabu Pushelberg also envisions Maple as a natural fit to elevate experiences with whimsical retail tenderness.
Linteloo x Yabu Pushelberg: Heath
By challenging what a traditional dining experience must look and feel like, Yabu Pushelberg designed Heath. Inspired to elevate the notion of a formal dining experience into a more casual interpretation through inviting, relaxed proportions, the studio brings comfort and ease into any dining experience.
"The word timeless often comes up in conversation when we discuss our evolution in design, but we're more focused on 'timeliness'," says George Yabu. "We are dedicated to hitting the nail on the head with every project, while still making them resonate through time. We're wired to think ahead; towards a goal or idea that is not in the present. We understand how people will engage with these concepts and so does our team. Our studios are agile, versatile and full of thinkers, like us. We get the opportunity to grow together every day through our work."
Glenn Pushelberg adds: "We are always thinking about how we can turn a new idea on its head to make it our own. When we started thinking about new concepts we naturally turned to friends and young designers at our studio to see how they would respond. Sometimes this leads to chatting with dear friends who support our concept, but question if we can bring it to life because our background is so heavily rooted in luxury design. This sentiment remained with us and pushed us, even more, to make our ideas a reality."
The post Yabu Pushelberg debuts nine new collections at Salone del Mobile appeared first on Sleeper.